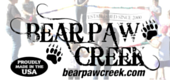 At Bear Paw Creek, we understand the importance of music and movement for developing healthy minds and bodies of all ages. Music stimulates both sides of the brain, lifts our spirits and makes tedious activities seem fun. Incorporating motion with music brings along all the excellent physical and emotional benefits of exercise, strengthening our muscles and improving coordination.
Bear Paw Creek is a company that equips teachers, therapists, and parents as they seek to enrich the lives of others through music and motion.
With a passion to create an income from home and inspired by my sister,Kathy Schumacher, MT-BC, a traveling music therapist, we (Christopher and Janet Stephens) opened Props & Bags, etc in January 2000. I meshed my love of sewing with the creation of a unique line of movement props along with solutions for organizing and transporting them.  With Christopher's innovative mind and my designing/sewing skills, we emphasized quality testing and making improvements where needed.  In 2001 we picked up our first wholesale customer, and continued to add more through the years.
In 2008, we changed our name to Bear Paw Creek, as we assessed our company and set goals for the future. Some things remain the same: commitment to the people who use our products, and enthusiasm for the manner in which our customers improve the lives of others. We also continue to innovate new products to serve the music and movement community  
Bear Paw Creek offers many colorful movement props.
We make the Stretchy Band in various sizes. One of our most recent innovations is the Connect-a-Stretchy Band™. This product allows you to connect smaller bands together to create different sized bands. In addition we have a central hub, which enables you to arrange them like spokes on a wheel.
Also in our inventory:  Movement Scarves Set, Streamers, Balloon Balls and Bean Bags in a rainbow of colors.
Bear Paw Creek manufactures many styles of totes and bags.
How do you organize those essential props you use? We have some solutions to help you manage and transport the tools that are vital to your work.  We havedrawstring bags, zippered bags, and a Pick Pocket for guitar picks. Our Clear Pocket Tote bags with transparent pockets have been very popular; you can slip a label in making the contents easy to find. We also have these three specialized carriers:
Tone Chimes Roll Up Case
Gig Bag for your Suzuki Qchord
Boom Tote
Bear Paw Creek is here to serve you as you enrich people's lives through music and movement. If you have any questions, please contact us.