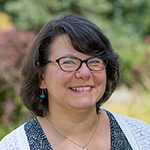 Su D'Ambrosio
ECMMA President
Assunta "Su" D'Ambrosio is Director of Education at South Shore Conservatory in Hingham, MA. She holds an MM in clarinet performance from the University of Massachusetts, Amherst, a BA in Music from Smith College, Orff Level III certification from the University of Massachusetts, Lowell and training in Music Together, Musikgarten and Gordon Music Learning Theory. At South Shore Conservatory, in addition to administrative duties, she is a preschool and kindergarten classroom music specialist. Previously, she taught general and instrumental music in public schools for 17 years as well as private lessons on clarinet. Su has been with South Shore Conservatory since 2003. Su became interested in early childhood education after the birth of her first daughter in 1997. Watching her daughter listen and respond to music made it clear that these early years are a crucial time for exposure to rhythm and tonal patterns as they are the seeds and foundation for understanding music later in life. She lives in Plymouth, MA with her daughters Maria, Rosa, and her dog Bernie who is a puppy at heart.
I am excited by ECMMA's potential to make connections between many organizations that serve and focus on early childhood arts education. My focus will be growing membership and making connections between other EC organizations with similar missions.
Amy Rucker is from Ohio, where she attended The Ohio State University, earning degrees in Piano Performance and Music Education in choral conducting. During her undergrad, she conducted handbell choirs, children's choirs, and ensembles. Much of her piano performance degree was focused on accompanying and training as an accompanist-coach. Amy and her husband moved to Dallas, TX, which brought her to SMU's prestigious Piano Pedagogy and Preparatory Department, where she earned her Masters degree in Piano Pedagogy. It was at SMU that Amy saw the value of early childhood music and movement. After she earned her MM she was hired as adjunct faculty, continuing her work in the pedagogy program for six years. During this time Amy taught Kindermusik for the department and served as the Early Childhood specialist. She was active in KTA, and spoke on the benefits EC Music and Movement to the Dallas chapter of the American Guild of Organists, as well as the role of children's music in the church for Music in Worship. After leaving SMU to start a family, Amy attended additional Teacher Training under Lorna Heyge, and began teaching Musikgarten in 1996. She founded the Early Childhood Music program at the Arts Academy of Park Cities Presbyterian church, growing the program to include 5 certified teachers and all levels of Musikgarten instruction. Amy and her husband are now back in Ohio with their two children, Elise and Ben. Amy has presented workshops on early childhood music and movement for Musikgarten, TMEA, Detroit Musician's League, OMEA, and Ohio University. She has had articles published in Clavier Companion and Musikgarten Messenger, and was selected to serve as a National Teacher Trainer for Musikgarten in 2004. Amy joined ECMMA when she began teaching Musikgarten, and became certified in 2006. She belongs to Delta Omicron International Music Fraternity, and Pi Kappa Lambda Honorary Music Fraternity.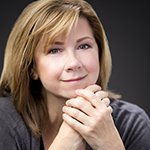 Amy Rucker
Past President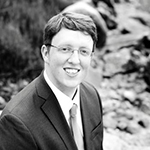 Dr. Tiger Robison
President-Elect
VP Membership
IJMEC Liaison
Bio: Tiger Robison, Ph.D., is assistant professor of music education at the University of Wyoming where he teaches courses in elementary general music methods, aural theory, and world music. Tiger earned a Ph.D. from the University of Hartford's Hartt School where he was grateful for the mentorship of Drs. Joshua Russell, Vanessa Bond, and John Feierabend among others. Additionally, he holds certification in Kodály, Orff, and First Steps in Music methodologies. Prior to his appointment at UW, Tiger was visiting assistant professor of music education at the University of Maryland. Before his collegiate career, Tiger taught in the Connecticut public schools for ten years where he taught general music to students in grades pre-Kindergarten (aged three and four) to grade four. Currently, Tiger's research in early childhood music is funded by the UW College of Arts and Sciences, the Wyoming Institute for Humanities Research, and the Wyoming Arts Council.
Focus & Vision: I am excited that more and increasingly diverse stakeholders are now becoming interested in early childhood education (see documentary "No Small Matter") and that organizations like the ECMMA have the rationale and corroborating research to make music and movement inextricably linked to a child's early education.
Specific to ECMMA, I am excited to potentially join a group of fiercely intelligent people spanning at least three "generations" (i.e., "Baby Boomers," "Generation X," and "Millennials") who are enthused about music in early childhood. As I am, many ECMMA members are motivated by families of their own and/or their duties at work (e.g., tenure track professor, educator, or administrator), and I am looking forward to potentially contributing to an organization that is poised to produce a large body of work in a short amount of time. In short, few causes could be more noble than the betterment of children, and few causes could advance as quickly as those driven by a cooperative team such as that of ECMMA.
I am interested in all facets of ECMMA's work, but I think the two most reasonable projects to focus on are a) winning grant proposals and b) securing the success of IJMEC. Both of these projects align with my duties as a tenure-track professor. To date, I have won $40,773 in grant monies for early childhood music projects with diverse populations from children of professors to children of Wyoming prisoners. I want to bring my knack for grant writing to ECMMA. I believe there is no shortage of good ideas and goodwill in our community, only shortages of capital.
Bio: Dr. H. Ellie Wolfe (formerly Falter) is Assistant Professor of Music Education at Drake University in Des Moines, Iowa. They have taught early childhood music in varied public and private settings, including preschools, elementary schools, a homeschool co-op, and libraries. Having served students from diverse backgrounds—such as on an American Indian Reservation, in inner city neighborhoods with generational poverty, and in wealthy suburbs—Ellie has internalized that there are many ways to teach music and each student brings interests and competencies which enhance the learning community. Dr. Wolfe is committed to learning from their students (young children, college students, and practicing music or generalist teachers) in part by teaching through play. They center research and practice on being more fully present in music-making and teacher education, approaching the goal of presence through the lenses of play, translating understanding through multiple symbolic systems, mindfulness, and the Alexander Technique.
Focus & Vision: Young children are musical beings. They deserve meaningful music and movement experiences. Also, they have so much to share with and teach the adults and communities in their lives who open themselves up to learning. I love how ECMMA brings together educators from different pedagogical perspectives to build a collective, messy, shared, yet contrasting understanding of early childhood music education, so that we may each work to provide meaningful music and movement experiences with the young children in our personal spheres. My focus for this board term is continuing to develop proactive and supportive organizational structures that support communication and project management.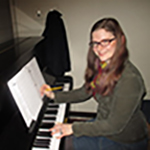 H. Ellie Wolfe
Secretary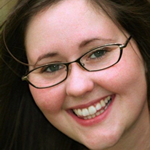 Christina Svec
Treasurer
: Dr. Christina Svec is currently the Assistant Professor of Music Education at Iowa State University where she teaches courses in elementary and secondary choral music methods. She received her PhD and Bachelor of Music Education degrees from the University of North Texas and a Master of Music Education degree from Michigan State University. She has also earned three levels of certification in Music Learning Theory and three levels in Kodály. Before coming to Iowa State and the Ames Children's Choirs, Dr. Svec taught elementary music for six years and has been involved with early childhood music for nearly fifteen years. Her research interests include research methodology, research pedagogy, and singing voice development. Her publications can be found in Kodály Envoy, Update: Applications of Research in Music Education, and Psychology of Music.
Focus & Vision: With ECMMA I am serving a population who cares deeply about early childhood music teaching, learning, and research!
Dr. Mara Culp is an Elementary General Music specialist and Assistant Professor of Music Education at the Eastman School of Music. Prior to her appointment at Eastman, she taught general, choral, and instrumental music to children in elementary, middle, and high school in Michigan for five years. Additionally, she has provided music for pre-kindergarten children and completed Kodály Level I and Music Together teacher training. Her academic and research interests include improving speech and language using music, music education for exceptional learners, interdisciplinary collaboration, elementary general music education, and choral music. She has presented at state, national, and international conferences; and presented as an invited speaker in Communication Sciences and Disorders departments. Her work has been published in The Orff Echo, Choral Journal, Journal of Research in Music Education, and General Music Today; and featured on NAfME's Music in a Minuet blog.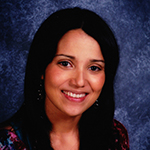 Mara Culp
VP 2021 Convention Programming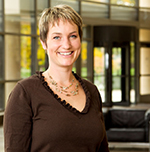 Karen Salvador
VP 2021 Convention Site
Karen Salvador is Associate Professor of Music at the University of Michigan-Flint, where she coordinates the Music Teacher's Certificate Program and teaches early childhood music at the UM-Flint Early Childhood Development Center. Dr. Salvador previously taught elementary general music in Eaton Rapids, MI, choir and drama in Palmerston North, New Zealand, early childhood music at the Michigan State University Community Music School, and worked as school program director for the North American Choral Company in Grand Rapids, MI. Dr. Salvador's research pertains to equity and inclusion in music education, examining the intersections of instructional practices, music teacher education, and educational policy. Dr. Salvador enjoys presenting workshops for practicing teachers, and her research appears in journals including Journal of Research in Music Education, Arts Education Policy Review, Journal of Music Teacher Education, Update: Applications of Research in Music Education, and Music Educators Journal. Dr. Salvador contributed guiding principles and strategies regarding inclusive practices to the forthcoming new edition of Music Play. She is a past facilitator for the Society for Music Teacher Education's Area for Strategic Planning and Action on Cultural Diversity and Social Justice, and is current President of the Michigan Music Education Association.
Dr. Michael Ruybalid is the Music Education Specialist at the University of Montana. He teaches courses in undergraduate and graduate music education and supervises student teachers in their general music placements. Dr. Ruybalid currently holds Kodály certification (Levels 1-3), OrffSchulwerk certification (Levels 1-3, Master Class with Chris Judah-Lauder) and Elementary Level 1 certification in Dr. Edwin Gordon's Music Learning Theory. He previously taught music education coursework at the University of Maryland and Southeastern Louisiana University. Prior to entering higher education, Dr. Ruybalid taught PreK-12th grade music for eight years in both private and public schools in the San Francisco Bay Area. Dr. Ruybalid has presented pedagogical and research sessions for local, national, and international audiences, including several conference sessions on early childhood music. His research interests include the examination of student intentions regarding school music participation.
Focus & Vision: I have a particular interest in how ECMMA focuses on advocating for early childhood music by "providing advocacy information, and a public platform, to aid in the success of early childhood music and movement initiatives." I have seen first hand the benefits of early childhood music instruction with young children, and I have a great interest in helping to advocate for music educators to learn about best practices in early childhood music through the ECMMA Convention.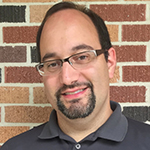 Mike Ruybalid
VP 2023 Convention Programming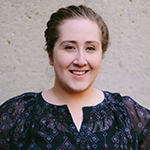 Lara Larsson
VP Development
Lara Larsson is an emerging music educator and arts administrator who hails from Western New York. She is passionate about early childhood music and movement research, elementary music literacy, and arts advocacy for public schools. Currently, she is making music with artists in Pre-K to Second Grade at Newark Central School District and little artists ages birth to four years at the Palmyra Community Library. She has worked in administrative and fundraising capacities with the Hawai'i Performing Arts Festival, the Arts Services Initiative of WNY, the Cattaraugus County Living Arts Association, the Tallahassee Community Chorus, Houghton College Lyric Theatre, and the Florida State University College of Music. Lara is a proud member of NAfME, GIML, and ECMMA and has recently earned her Level 1 Certification with ECCMA and Level 1 Elementary General certification with GIML. Lara received her BMus in Music Education from Houghton College and an MA in Arts Administration from Florida State University and is a member of Pi Kappa Lamba (Phi).
Focus & Vision: The work of ECMMA to advocate for the advancement of early childhood music and movement research and professional development directly supports the work that I do with the young musicians that I interact with every day. I am thankful to be a recipient of the benefits of the groundwork that has been established since ECMMA's founding. As ECMMA moves forward, the coming together of early childhood music & movement professionals to advocate for our practice will further strengthen its reach and potency; this work will impact the young musicians not only in my classroom, but all around the world. It is my hope to align my own mission of advocacy for early childhood music and movement practice with the mission of ECMMA with the use of my skills and passion for development and fundraising. It's an exciting time to be a part of this professional community and I look forward to the opportunity to contribute to its growth.
Gina Yi is an Assistant Professor and Program Coordinator for Music Education at Wheaton College. Yi received a Bachelor of Music from the Juilliard School, a Master of Music Education from Ewha Womans University in South Korea, and a Ph.D. in Music Education from Michigan State University.
Yi taught early childhood music for over 15 years and participated as a clinician at numerous conferences for music educators presenting on topics such as early childhood music, elementary general music, assessment, and world music. She has published in Music Educators Journal and presented her research at the International Society for Music Education, the International Symposium on Assessment in Music Education, the Desert Skies Symposium, the Suncoast Music Education Research Symposium, and the Mountain Lake Colloquium. Internationally, she has presented at various workshops as a leading clinician, published several instructional materials and songbooks, and developed music programs for children in South Korea.
Focus & Vision: The ECMMA's effort to impact early childhood music educators - hosting an international convention, providing professional development, publishing scholarship through IJMEC, and creating a supportive community - excites me because I have a heart for this particular field of music education. I am interested in the Professional Advancement mission. I believe that it is vital for ECMMA to provide various learning opportunities to meet the needs of early childhood music teachers who are teaching in this global and digital era. Particularly, through an online platform, ECMMA can reach music teachers both nationally and internationally. As a VP Professional Advancement, I am interested in developing strategic plan and exploring the implementation of professional development through various platforms and ways that can enrich the further education of the current early childhood music teachers, elementary general music teachers, and college students who hope to impact young music makers.
I would like to focus on Professional Development. I have experience organizing music education workshops at my current institution, hosted GIML workshops in Korea, and served on an online education committee of Interactive Education for Children in Korea.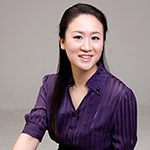 Dr. Gina Yi
VP Professional Advancement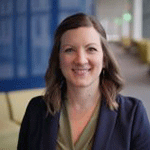 Christa Kuebel
VP Social Media
Dr. Christa Kuebel specializes her research in music teacher preparation and early childhood music education. Her current work focuses on the role of self-efficacy among preservice music educators. She has instructed higher education courses in elementary general methods, world music, child development, and introduction to music education. Kuebel has taught choir, band, and general music for students in preschool through junior high in Illinois, China, and Poland. She also teaches early childhood music education classes to children four and under.
Kuebel holds a Bachelor of Music Education from Bowling Green State University (Bowling Green, Ohio), Master of Music from Boston University (Boston, Massachusetts), and a PhD from Case Western Reserve University (Cleveland, Ohio). She has presented at state, national, and international conferences. Her published research can be found in Research Studies in Music Education, Journal of Music Teacher Education, Music Educators Journal, and Journal of Research in Music Education.
Focus & Vision: The mission of ECMMA encompasses all areas of early childhood music in order to support educators at all stages of their career and professional development. Being able to participate in the lifelong learning of music educators is an exciting endeavor that I want to continue to be a part of. After completing my current term, I would like to develop ways in which to continue to grow the social media aspect of ECMMA. I would specifically like to see ways in which social media can provide cohesive communication among other areas of the organization (newsletter, website, etc.), as well as work to engage community members more actively on the platforms I have developed (Instagram and Facebook).